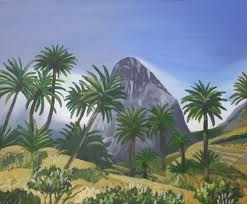 WE REGREEN LA GOMERA
Give us deserts and gain paradises !


ECOLOGICAL EVALUATION
OF LA GOMERA

In the times of the Guanches (Gomeran aborigines 500 B.C.-1500)
La Gomera was nearly completely covered with forests. Agriculture
and lifestock-holding was extensively integrated in the ecosystem.
But the highly nature-hostile spanish colonisation leaded in the past 500
years to deforestation and intensive monocultural agriculture and plantations.
The overexploited ecosystem with itīs destroyed ability to create itīs own
microclimate was unable to survive natural and manmade droughts, broke down
and is nowadays not more than a half-desert. Men left whole landscapes.
Nearly the whole south of the island and big parts of the north are nowadays
wild badlands after the ecological catastrophe with some half-desert plants,
that feed in some areas maybe still a few goats. Only the Laurisilva-Forest
around the Garajonay survived because of itīs inaccessibility and the
bigger barrancos are green and fertile because of their artificial watering systems.
This heavily damaged ecosystem can be still transformed into a desert-regreening
with highly developed ecological skills. But to realize this it will be definitely necessary
to overcome the aggressive spirit of the spanish conquest, that still is alive
on La Gomera and overexploits the remaining few ressources (like sucking out the ground-water for tourism or burning down the forest for gaining insurance-money)
untill the island will be completely deserted. Only with a rising ecological
consciousness of locals and tourists this will be possible. The economical
crisis nowadays can be a chance for this change - or the reason for
the total destruction of the islands ecology. Itīs our choice to fertilize
or to exploit La Gomera.